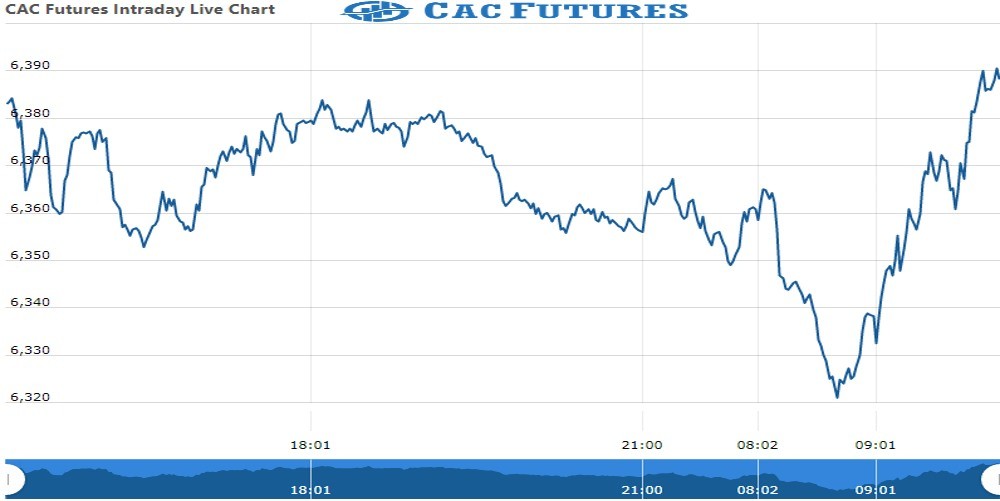 CAC Futures Update : 23 August. 2022
The CAC 40 Futures is trading at 6,371.00 with a loss of -2.21% percent or -143.90 point.The FTSE 100 Futures is trading at 7,499.20 with  a loss of -0.36% percent or -27.30 point.  The DAX Futures is trading at 13,227.0 up with +0.05% percent +7.0 point. The EURO Stoxx 50 Futures trading at 3,654.00 up with +0.08% percent or +3.00 point.
TODAY'S FACTORS AND EVENTS
European stock markets are expected to open lower Tuesday, continuing the previous session's sharp selloff as investors fret that red-hot inflation, soaring gas prices, and tightening monetary policies will result in a regional recession.
YESTERDAY ACTIVITY
For the day France's CAC 40 closed at 6,367.79 with a loss of –0.17% percent or ?10.95  point.the FTSE 100 closed at 7,497.06  with a loss of –0.49% percent or ?36.73 point. Germany's DAX closed at 13,247.78 up with  +0.13% percent or +17.21    point.
WORLD MARKETS
For the day the Dow is trading at 33,063.61 with a loss of –1.91% percent or ?643.13 point. The S&P 500 is trading at 4,137.99  with a loss of –2.14% percent or -90.49  point. The Nasdaq Composite is trading at 12,381.57 with a loss of –2.55% percent or ?2.55%  point.
In other parts of world, Japan's Nikkei 225 is trading at 28,453.68 with a loss of –1.18% percent or -340.82  point. Hong Kong's Hang Seng is trading at 19,506.82 with a loss of –0.76% percent or -150.16  point. China's Shanghai Composite is trading at 3,276.52 with a loss of –0.039% percent or -1.27 point. India's BSE Sensex is trading at 58,523.38 with a loss of –0.43% percent or -250.49  point at 12:15 PM.