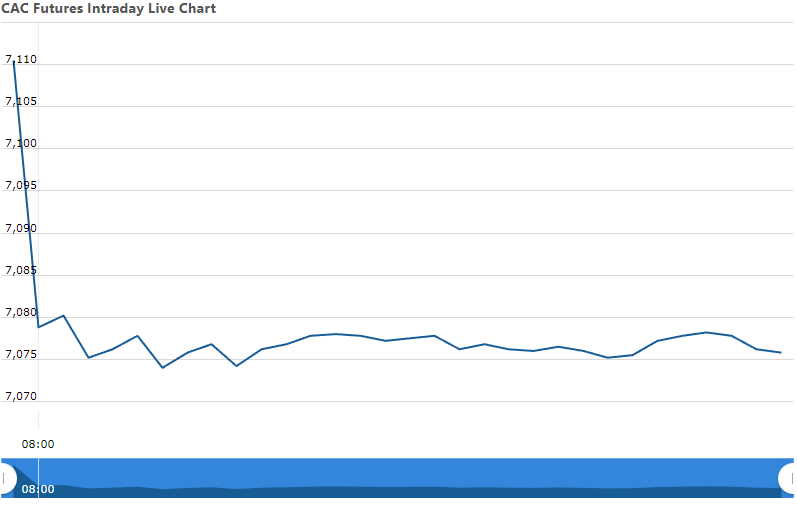 CAC Futures Update : 30 Jan. 2023
The CAC 40 Futures is trading at 7,110.50 with -0.10% percent or -7.00 point.The FTSE 100 Futures is trading at 7,711.80 with -0.39% percent or -30.20 point. The DAX Futures is trading at 15,148.5 with -0.37% percent -56.5 point. The EURO Stoxx 50 Futures trading at 4,162.00 with -0.45% percent or -19.00 point.
TODAY'S FACTORS AND EVENTS
French luxury goods group Kering (EPA:PRTP) has appointed Sabato De Sarno, a senior fashion designer at Valentino, as creative director of its top brand Gucci, it said on Saturday.
At Gucci, he will be tasked with reviving the fortunes of a brand that accounted for two-thirds of Kering's profits in 2021 but has been losing momentum in recent years after stellar growth in 2015-19.
YESTERDAY ACTIVITY
For the day France's CAC 40 closed at 7,097.21 with 0.017% percent or +1.22 point.the FTSE 100 closed at 7,765.15 up with  +0.052% percent or +4.04 point. Germany's DAX closed at 15,150.03 up with +0.11% percent or +17.18 point.
WORLD MARKETS
For the day the Dow is trading at 33,978.08 with 0.084% percent or +28.67 point. The S&P 500 is trading at 4,070.56 with 0.25% percent or +10.13 point. The Nasdaq Composite is trading at 11,621.71 up with +0.95% percent or +109.30 point.
In other parts of world, Japan's Nikkei 225 is trading at 27,361.16 with a loss of –0.078% percent or ?21.40 point. Hong Kong's Hang Seng is trading at 22,266.60 with a loss of –1.86% percent or ?422.30 point. China's Shanghai Composite is trading at 3,276.72 with 0.36% percent or +11.90point. India's BSE Sensex is trading at 59,193.33 with  a loss of –0.23% percent or ?137.57 point at 12:15 PM.