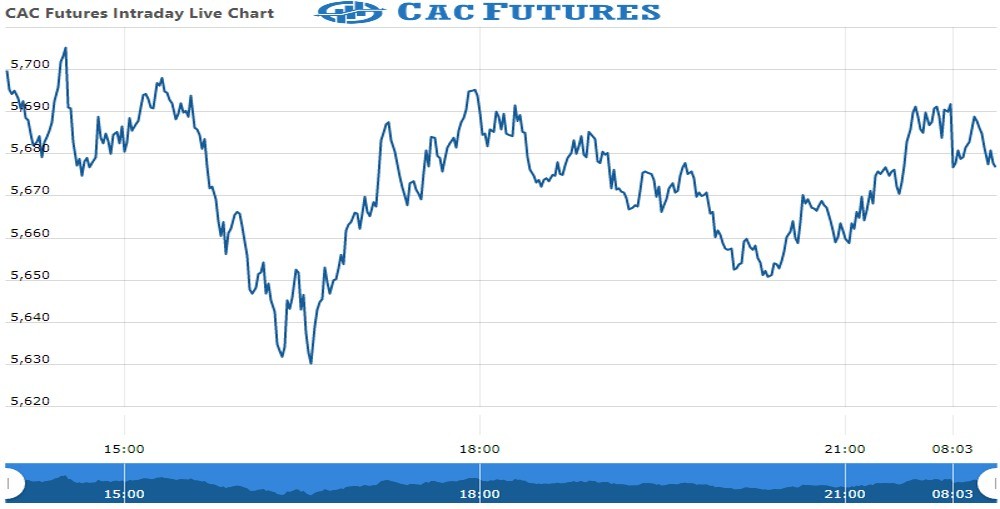 CAC Futures Update : 30 Sept. 2022
The CAC 40 Futures is trading at 5,691.80 with a loss of -1.30% percent or -74.70 point.The FTSE 100 Futures is trading at 6,869.80 with a loss of -0.29% percent or -20.20 point.  The DAX Futures is trading at 11,989.0 with a loss of -0.37% percent -44.0 point. The EURO Stoxx 50 Futures trading at 3,276.00 with a loss of -0.27% percent or -9.00 point.
TODAY'S FACTORS AND EVENTS
London stocks closed well below the waterline on Thursday, while government bond yields were rising again as investors continued to fret about the implications of last week's mini-budget, and the Bank of England's bond market intervention.
YESTERDAY ACTIVITY
For the day France's CAC 40 closed at 5,676.87 with a loss of –1.53% percent or ?88.14  point.the FTSE 100 closed at 6,881.59 with a loss of  –1.77% percent or ?123.80 point. Germany's DAX closed at 11,975.55 with a loss of –1.71% percent or ?207.73   point.
WORLD MARKETS
For the day the Dow is trading at 29,225.61  with a loss of –1.54% percent or ?458.13 point. The S&P 500 is trading at 3,640.47 with a loss of – 2.11% percent or -78.57 point. The Nasdaq Composite is trading at 10,737.51 with a loss of 2.84%  percent or -314.13  point.
In other parts of world, Japan's Nikkei 225 is trading at 25,815.25 with a loss of –2.30% percent or ?606.80  point. Hong Kong's Hang Seng is trading at 17,154.48 with a loss of –0.066% percent or –11.39  point. China's Shanghai Composite is trading at 3,034.85 with a loss of –0.21% percent or -6.36 point. India's BSE Sensex is trading at 56,606.45 up with +0.35% percent or +196.49  point at 12:15 PM.