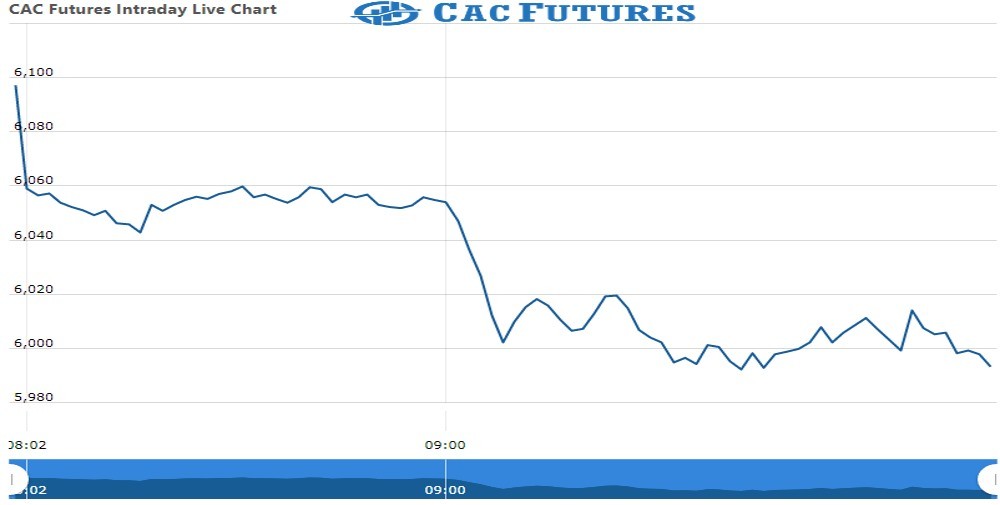 CAC Futures Update : 19 Sept. 2022
The CAC 40 Futures is trading at 6,007.80 with a loss of -1.08% percent or -65.70 point. The FTSE 100 Futures is trading at 7,271.00 with -0.29% percent or -21.00 point. The DAX Futures is trading at 12,694.0 with -0.45% percent -57.0 point. The EURO Stoxx 50 Futures trading at 3,464.00 with a loss of -0.92% percent or -32.00 point.
TODAY'S FACTORS AND EVENTS
The main focus this week will be on the two-day U.S. Federal Reserve meeting, starting on Tuesday, which is widely expected to result in another 75 basis point interest rate hike
YESTERDAY ACTIVITY
For the day France's CAC 40 closed at 5,996.12  with a loss of –1.34% percent or -81.18  point. the FTSE 100 closed at 7,236.68 with a loss of –0.62% percent or –45.39  point. Germany's DAX closed at 12,653.85 with  a loss of –0.69% percent or –87.41  point.
WORLD MARKETS
For the day the Dow is trading at 30,822.42 with a loss of  -0.45% percent or -139.40  point. The S&P 500 is trading at 3,873.33 with a loss of –0.72% percent or ?28.02 point. The Nasdaq Composite is trading at 11,448.40 with a loss of –0.90% percent or -103.95  point.
In other parts of world, Japan's Nikkei 225 is trading at 27,567.65 with a loss of –1.11% percent or ?308.26  point. Hong Kong's Hang Seng is trading at 18,610.74 with  a loss of –0.80% percent or -150.95  point. China's Shanghai Composite is trading at 3,114.54 with a loss of –0.38% percent or -11.85 point. India's BSE Sensex is trading at 59,219.50  up with +0.64% percent or +378.71  point at 12:15 PM.