The CAC 40 Futures is trading at 4,454.20 up with +2.04% percent or +89.20 point.The FTSE 100 Futures is trading at 5,815.80 up with +0.44% percent or +25.20 point.  The DAX Futures is trading at 10,548.20 up with +0.76% or +79.70 point. The EURO Stoxx 50 Futures trading at 2,832.00 up  with +0.85% percent or +24.00 point.
TODAY'S FACTORS AND EVENTS
"Retail sales saw their biggest monthly fall since records began over 30 years ago with large declines in clothing and fuel, only partially offset by strong food sales," said Rhian Murphy, head of retail sales at the ONS.
"Online-only retailers saw strong growth though, with many high street stores also unsurprisingly seeing a boost to web sales."
Thomas Pugh, UK economist at Capital Economics, said the 5.1% month-on-month fall suggests that consumption declined by at least 4% quarter-on-quarter in the first quarter.
YESTERDAY ACTIVITY
For the day France's CAC  40 closed at 4,393.32  with a loss of –1.30% percent or –57.68 point. the FTSE 100 closed at 5,752.23 with a loss of –1.28% percent or –74.38 point. Germany's DAX closed at 10,336.09 with a loss of -1.69% percent or –177.70  point.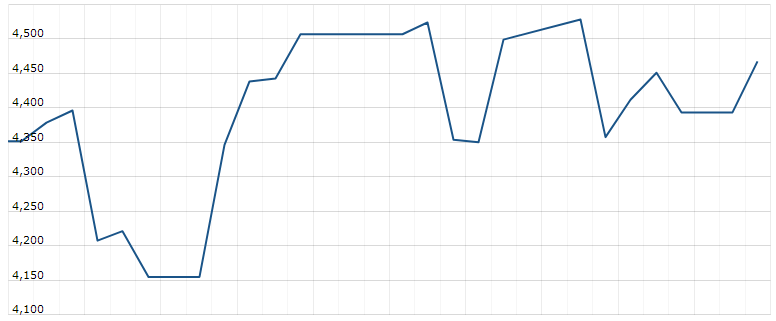 WORLD MARKETS
For the day the Dow is trading at 23,775.27 with +1.11% percent or +260.01  point. The S&P 500 is trading at 2,836.74  with 1.39% percent or +38.94 point. The Nasdaq Composite is trading at 8,634.52  with 1.65% percent or +139.77 point.
In other parts of world, Japan's Nikkei 225 is trading at 19,783.22 up with +2.71% percent or +521.22  point. Hong Kong's Hang Seng is trading at 24,271.41 up with +1.85% percent or +440.08   point. China's Shanghai  Composite is trading at 2,815.44 up with +0.25% percent or +6.91 point. India's BSE Sensex is trading at 32,015.78  with 2.20% percent or +688.56 point at 12:15 PM.