The CAC 40 Futures is trading at 4,550.50 up with +1.51% percent or +67.50 point.The FTSE 100 Futures is trading at 5,888.20 up with +0.37% percent or +21.50 point.  The DAX Futures is trading at 10,726.50 up with +0.35% or +37.90 point. The EURO Stoxx 50 Futures trading at 2,888.00 up with +0.24% percent or +7.00 point.
TODAY'S FACTORS AND EVENTS
"If we did get confirmation that Europe was moving towards joint liability, debt issuance etc, even if it's relatively small, setting the precedent would be a powerful signal," said Graham Secker, chief European equity strategist at Morgan Stanley (NYSE:MS).
With countries doubling down on lockdowns to curb the spread of the virus, analysts have further cut profit estimates for STOXX 600 firms, with first-quarter earnings now expected to slide 15.7% compared with the Jan. 1 forecast of a 10.5% rise.
YESTERDAY ACTIVITY
For the day France's CAC  40 closed at 4,506.85 up with +1.44% percent or +64.10 point.the FTSE 100 closed at 5,868.98 up with +0.45% percent or +26.32 point.Germany's DAX closed at 10,564.74 up with  +2.24% percent or +231.85  point.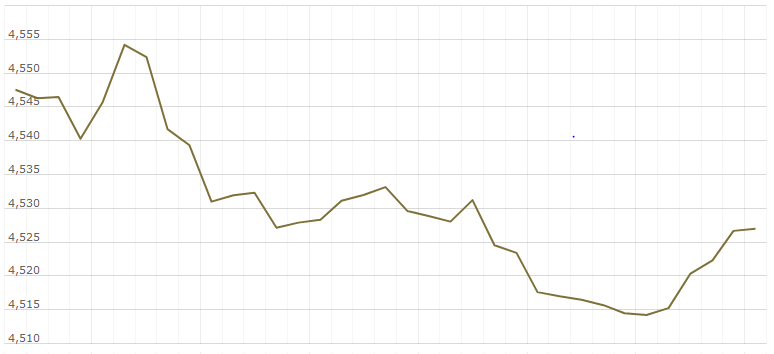 WORLD MARKETS
For the day the Dow is trading at 23,390.77 with a loss of –1.39% percent or –328.60 point. The S&P 500 is trading at 2,761.63 with a loss of –1.01% percent or –28.19  point. The Nasdaq Composite is trading at 8,192.42 up with +0.48% percent or +38.85 point.
In other parts of world, Japan's Nikkei 225 is trading at 19,638.81 up with 3.13% percent or +595.41 point. Hong Kong's Hang Seng is trading at 24,450.90 up with  +0.62%  percent or +150.57 point. China's Shanghai  Composite is trading at 2,827.28 up with +1.59% percent or +44.24  point. India's BSE Sensex is trading at 30,690.02  with a loss of  –1.51% percent or –469.60  point at 12:15 PM.