The CAC 40 Futures is trading at 4,320.50 with a loss of -2.33% percent or -103.00 point.The FTSE 100 Futures is trading at 5,435.60  with a loss of -2.84% percent or -158.90 point.  The DAX Futures is trading at 9,607.20  with a loss of -1.74% percent or -170.30 point. The EURO Stoxx 50 Futures trading at 2,684.00  with a loss of -1.21% percent or -33.00 point.
TODAY'S FACTORS AND EVENTS
European shares fell again on Today as the continued spread of the coronavirus fed into panic over its economic shock, with a recession in 2020 looking likely.
Markets had briefly pared losses earlier in the day after the U.S. Federal Reserve underlined aggressive action to offset the economic disruption from the outbreak. they swiftly sank back to session lows as the prospect of recession gave little impetus to buy into equities.
YESTERDAY ACTIVITY
For the day France's CAC  40 closed at 4,432.30 up with 4.47% percent or +189.60 point. the FTSE 100 closed at 5,542.36 with a loss of  –2.58% percent or –146.66 point. Germany's DAX closed at 9,874.26 up with +1.79% percent or +173.69  point.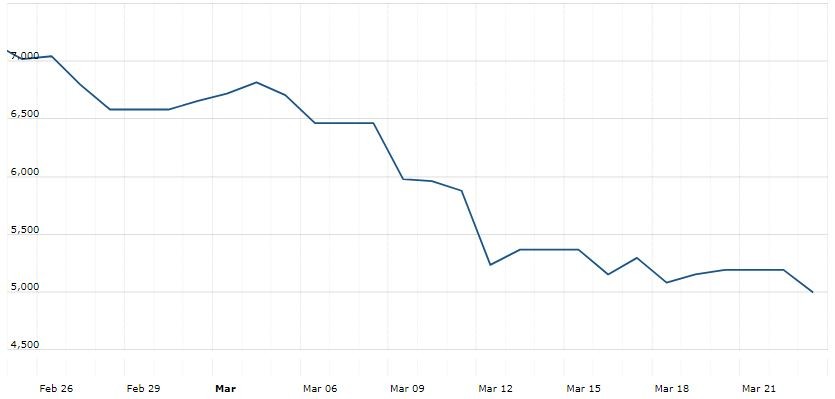 WORLD MARKETS
For the day the Dow is trading at 21,200.55 up with +2.39% percent or +495.64 point. The S&P 500 is trading at2,475.56 up with 1.15% percent or +28.23 point. The Nasdaq Composite is trading at 7,384.30 with a loss of –0.45% percent or –33.56 point.
In other parts of world, Japan's Nikkei 225 is trading at 18,664.60 with a loss of –4.51% percent or –882.03 point. Hong Kong's Hang Seng is trading at 23,352.34  with a loss of –0.74%percent or –174.85 point. China's Shanghai  Composite is trading at 2,764.91 with a loss of –0.60% percent or –16.68 point. India's BSE Sensex is trading at 29,366.12 up with +2.91% percent or +830.34 point at 12:15 PM.