The CAC 40 Futures is trading at 5,895.80 up with +0.03% percent or +1.80 point. The FTSE 100 Futures is trading at 7,325.50 up with +0.30% percent or +22.00 point. The DAX Futures is trading at 13,226.30 up with +0.06% percent or +8.00 point. The EURO Stoxx 50 Futures trading at 3,698.00 up with +0.05% percent or +2.00  point.
TODAY'S FACTORS AND EVENTS
CMC Markets analyst David Madden said: "The situation in the Far East appears to be getting worse, and when you factor in a cooling of the bullish sentiment surrounding the US-China trading relationship, it's no wonder equities are lower this morning."
Luxury goods stocks such as Pandora, Richemont, Moncler were all lower following the weekend's unrest, as Hong Kong is an important market for high-end brands.
In Spain, the IBEX 35 was down by 0.06% at 9,388.50 after the country's Socialist Party won the largest portion of the vote in Sunday's elections but were unable to secure a majority, as the support for far-right parties surged.
YESTERDAY ACTIVITY
For the day France's CAC  40 closed at 5,893.82 up with +0.070%  percent or +4.12 point.the FTSE 100 closed at 7,328.54 with a loss of –0.42% percent or  -30.84 point.Germany's DAX closed at 13,198.37  with a loss of -0.23%percent or -30.19   point.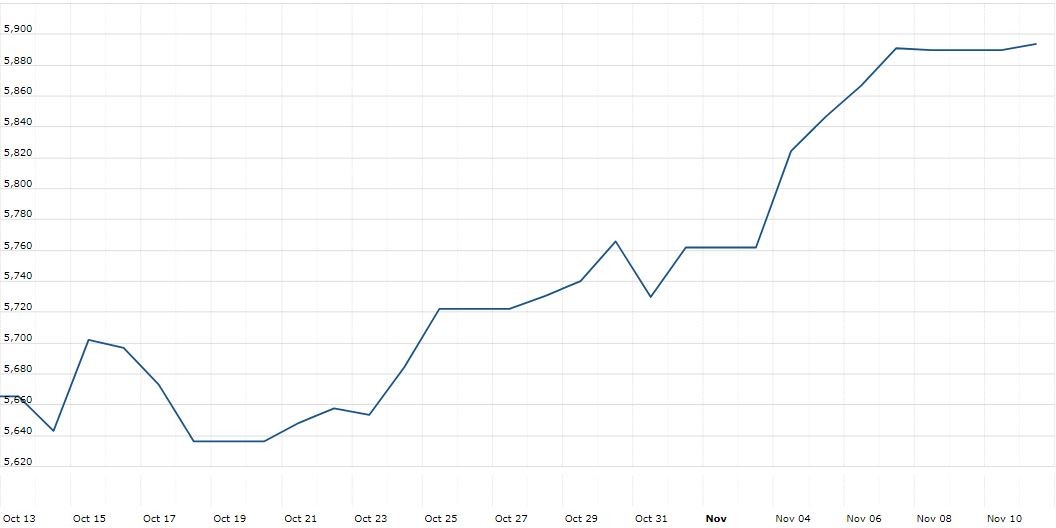 WORLD MARKETS
For the day the Dow is trading at 27,691.49 up with +0.037% percent or +10.25 point. The S&P 500 is trading at 3,087.01  with a loss of –0.20% percent or –6.07 point. The Nasdaq Composite is trading at 8,464.28  with a loss of –0.13% percent or –11.04 point.
In other parts of world, Japan's Nikkei 225 is trading at 23,520.01 up with +0.81% percent or +188.17 point. Hong Kong's Hang Seng is trading at 27,028.18 up with +0.38% percent or +101.63 point. China's Shanghai Composite is trading at 2,914.82 up with +0.17% percent or +4.85   point. India's BSE Sensex is trading at 40,345.08 up with +0.053% percent or +21.47 point at 12:15 PM.